How to Use a KDP Cover Template
If you're self-publishing, the last thing you want is for KDP to reject your cover design. Using the right KDP cover template will make sure your book cover meets KDP's standards.
In this article, we'll cover where you can access the KDP cover template generator, which information you need to accurately calculate your cover dimensions, and how to use a KDP cover template when designing your book.
Where to Get a KDP Cover Template
Access the KDP cover template generator. You will need some information, including your book's trim size and page count.
For the page count, remember to use the actual page count from your final interior file, not the folio page count. What does that mean?
When you open the print file in a PDF viewer, you will see that the front matter is labeled with Roman numerals. You don't see actual numbers until the first chapter begins. That means there are more printed pages than numbered pages.
In this case, you can see that the final page number is 345. However, when we look at the actual number of pages, there are 352. For the purposes of calculating cover dimensions, we want to use the actual number of pages: 352.
How to Use the KDP Cover Template Generator
KDP provides a very simple calculator to help you determine your book's dimensions and generate a cover template.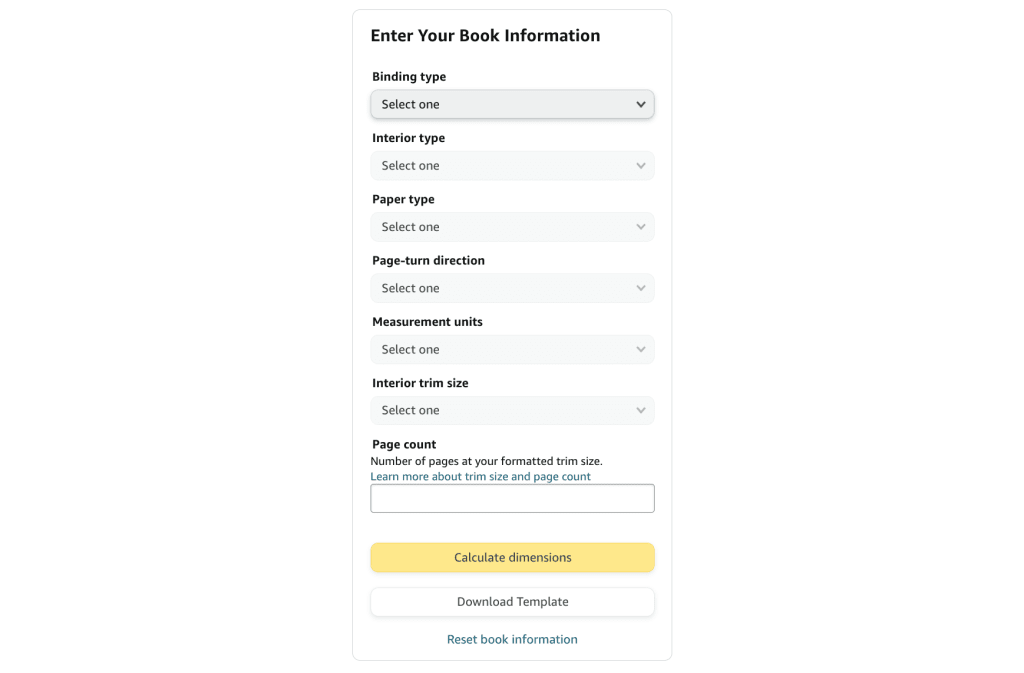 Binding Type: Hardcover or paperback.
Interior Type: The paper type impacts the spine width, so be sure you and your designer are on the same page about this.
Paper Type: White or cream. This can also impact spine width.
Page-Turn Direction: For most books, this is left to right.
Measurement Units: Inches or centimeters.
Interior Trim Size: The first number is width, and the second number is height.
Page Count: As explained above, use the actual page count.
After inputting your information, you can view the book's dimensions and download a template (PNG and PDF).
How to Use KDP Cover Template
After downloading your KDP cover template, you or your designer will import the template into the design program, such as Adobe Photoshop or Adobe InDesign. Create a new layer for the design. It can be helpful to make the template layer semi-transparent.
Use the template as a guide to align the design elements.
The design should cover the entire layer.
Text or images should not extend into the pink zones.
A barcode will be generated over the yellow area. This area should contain no important text or images.
Be sure to turn off the guide layer before flattening the image.
What Size Should My KDP Book Cover Be?
The best trim size for your book depends largely on the genre. The most common sizes, however, are 5×8, 5.5×8.5, and 6×9.
You may also want to consider your word count. Printing cost is impacted by the page count but not by the trim size. So for a longer book, a 5×8 version will cost more to print than a 6×9 version, as it will have more pages.
How Do You Calculate Spine Width for KDP?
Spine width is calculated based on the actual page count and paper type. The KDP cover template generator automatically calculates the spine width.
Should You Design Your Own Book Cover?
For most authors, designing your own book cover is not a good idea. Most authors don't have the specialized knowledge or software necessary to do so. Do you own Adobe Photoshop or InDesign? Are you comfortable with the software?
Do you understand genre conventions and current industry trends? A professional cover designer knows how to impart the book's genre and tone with only design elements. A professional also has a strong understanding of design principles, and they know how to design a book cover that looks great on a print book and a thumbnail.
The two things that impact your book's sales the most are reviews and the cover design.
Below, check out some of the book covers our team at Blue Pen has designed. Click here to see our full portfolio.
IngramSpark Cover Template
IngramSpark offers a similar book cover template generator. Simply fill in the information about your book and download the IngramSpark cover template.
Note that the KDP cover template and IngramSpark cover template are not the same. You will need two separate versions of your cover for KDP and IngramSpark, even if they use the same trim size and interior file.
Most cover designers, including Blue Pen, create these separate versions of your book cover for no additional charge.
Using a KDP Cover Template
Now you know how to get an IngramSpark or KDP cover template. Make sure you input the correct details, as they can impact the spine width.
Accessing KDP cover templates is easy. However, actually creating a design that showcases your story is much more complicated.
If you're ready to have a custom cover designed for your work, book your cover design service here. We'll ask some questions about your story and vision for the cover (if you have one), and then our experienced designers will develop concepts for you to choose from.
Once you pick a concept, we will revise it to make sure it perfectly represents your story.